For more than 25 years Pace Precision in Harlow has specialised in the design, prototyping and manufacture of precision components and associated equipment.
Ongoing investment, most recently in an XYZ 250 TC turning centre, coupled with traditional engineering skills is contributing to a third consecutive year of record growth - with current turnover up 20% on the previous year.
The XYZ 250 TC turning centre is the third machine tool to be supplied to Pace Precision by XYZ Machine Tools. Its two predecessors, a ProTURN CNC/manual lathe and a ProtoTRAK CNC/manual mill, have performed well, prompting investment in a 38hp/3500 rev/min turning centre with a 12-postion VDI turret and MT5 tailstock.
With a turning capacity of 250mm diameter (77mm bar capacity) by 650mm, and equipped with Siemens ShopTurn conversational control, the XYZ 250 TC is earmarked for longer batch runs. This enables one operator to oversee two machines, making more productive use of skills.
Programming is carried out on the shopfloor; the simplicity of the Siemens CNC system, with its easy to navigate menus and 'help' screens, contributes to significant time savings. The control can be programmed by operators without specific DIN/ISO programming knowledge, with canned cycles catering for common machining functions such as stock removal against contour and residual material recognition.
See more at: http://www.ipesearch.co.uk/page_286854.asp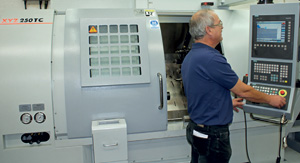 Harlow-based Pace Precision Ltd has invested in a third turning centre for longer batch runs. The company has also invested in 3D CAD technology and has also been given planning permission to extend its premises. It offers sheet metal working and fabrication alongside its machining and assembly services and specialises in the design, prototyping and manufacture of precision components. "We know that our continuing success and reputation depends on the quality of service we offer to a broad and diverse customer base," says general manager Sean Monaghan. "The world is changing and Pace Precision has to change, too, if we are to remain competitive. Encouraging people to be more productive is part of that change, bringing with it greater job satisfaction and increased job security." The new XYZ 250 TC turning centre joins two other XYZ machines, a ProTURN CNC/manual lathe and a ProtoTRAK CNC/manual mill. With a turning capacity of 250 mm diameter (77 mm bar capacity) by 650 mm, and Siemens ShopTurn conversational control, the XYZ 250 TC is earmarked for longer batch runs. One operator will oversee two machines, increasing flexibility and making more productive use of existing skills. Materials machined by Pace Precision range from thermoplastics to high grade stainless steels and exotics, with the company's engineers working closely with OEM customers in sectors such as defence, medical, electronics, packaging and aerospace. –
See more at: http://www.engineeringcapacity.com/news101/process-news/machining/setting-the-pace#sthash.fbQ3X59K.dpuf